Around this time last year, I was dreaming about rompers.
I had my eye on this one in particular… though now I'm kind of getting a scary J-Lo vibe from it. In Jersey you have to be careful as you tread the fine line. Accessories and shoes could take this guy in either direction. (Think giant hoop earrings/gold chain belt/ spike booties vs. hair in a french twist/ thin red patent belt/ retro cherry red wedges or sling-backs.)

Source: Arden B from last year
This year, I'm having no luck with the styles I've tried on. Most of them are drop-waisted, which does NOT look good on me. For instance I lovelovelove this, but I know it would make me look like a disaster.


Source: ShopRuche.com
In my case, I think I would do best in a fitted, retro style as opposed to the cutesy flouncy ones. (For me, this is a rule of thumb for all clothing, though I often forget!)
So in keeping with those criteria: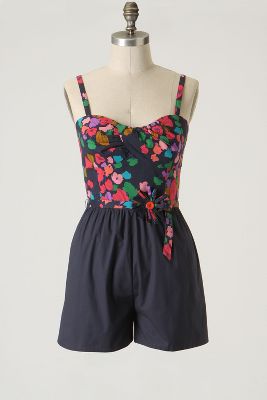 Source: Anthropologie
I don't know if I could pull this off, but it's the sweetest thing ever:


Source: Modcloth
I'd love this if it was black with white dots:


Source: Modcloth
What are your thoughts on rompers? I know a lot of people think they're stupid. I just think they look so comfy – and easy!
Have you seen any cute ones in stores or online?